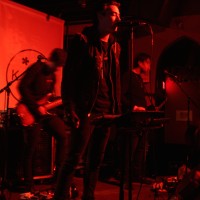 ---
When you think of hip-hop, you probably wouldn't think of K.Flay. The Chicago-born, Bay Area-native produces music that can only be described at indie hip-hop — not what you'd expect from a girl with jet-black hair and Doc Martens. Last Saturday, K.Flay (née Kristine Flaherty) played a sold-out show at The Middle East Upstairs in Cambridge. If you're the type who can't decide what genre of music you like, you should've been there. Minneapolis trip-hoppers, Step Rockets and Cali-rockers, Night Riots opened the night. Check it out in the photos below.
All photos by Hanna Klein.
Night Riots | Photo by Hanna Klein
Before the show, The Quad sat down with K.Flay on her tour bus to talk about her debut album, life advice, and video games.
The Quad: How's Boston treating you so far?
K.Flay: It's been good. I was a speaker at this Berklee symposium thing, so I did a demo of my production stuff and my recording process. That was really cool. I'd never been there before, it's really beautiful. Then, honestly, I went into a hotel room and worked and ordered fries from room service because I just fuckin' felt like I deserved it.
How has your career changed in the last year?
The last year …read more
I'm too old for trick-or-treating, I don't have any kids and I'm a big chicken when it comes to most horror movies, so one of my personal favorite Halloween traditions is to play creepy video games with the lights turned off.
When I was young and even more of a coward than I am now, this meant playing Castlevania late at night. Later I graduated to Resident Evil, then Fatal Frame, then Amnesia: The Dark Descent… Whether the game is actually scaring me or not, I enjoy getting into the spooky spirit of the holiday.
To share the spooks, here are 11 great video games and a couple bonus board games to enjoy on All Hallows' Eve.
(For more suggestions, you can check out my similar lists from 2013 and 2012.
Neverending Nightmares
Some games are good at making me jump, but Neverending Nightmares is good at making me extremely uncomfortable. You might be tricked into thinking that, because the game's black-and-white style isn't exactly realistic, it won't get under your skin. But the aesthetic makes the entire game feel like one of the most unsettling children's drawings you've ever seen. The imagery in Neverending Nightmares often made me look away from the screen not because I was frightened (not always, anyway), but because I was uncomfortable.
It's not exactly action-packed. It's more of an interactive short story than a "game" in some ways, so you should know what you're getting into, but if you want some good psychological horror, you can find it here.
The Evil Within
As I said in my longer impressions of the game, The Evil Within is more gross than scary. It can be tense, sure. Creepy, yes. But while it certainly throws back to more old-school survival horror games, I don't think it hits enough notes to make it a horror classic. Still, if you're a fan of Resident Evil 4 and you want a game that feels like that in a lot of ways, The Evil Within has got your back. There's spooky fun to be had.
The Last Door
Another good example of a horror game that doesn't need realistic visuals to be unsettling, The Last Door is a good point-and-click adventure game that kind of looks like a forgotten SNES-era title. The story is unashamedly Lovecraft-inspired, and it's effective at using your imagination against you.
The Last …read more
Redirect Alert
If you do not want to go there, you can visit
Bing News
or close the page.
Things have been crazy at Destructoid since I became the Reviews Director. On my first week, I had to tackle a new Ratchet & Clank, Super Mario 3D World, and three other games. It hasn't let up after that, and as a result, I haven't had as much time to focus on my Carter's Quest series.
Thankfully though I am often able to incorporate assignments into other works, and since playing a ton of Reaper of Souls on PS4 last month I decided to tackle its predecessors yet again. The Diablo series is among my most-played franchises, so it was an easy adventure to take.
Why Diablo?
Diablo has a special place in my heart for numerous reasons. It was one of the first co-op games I ever played with my pal Joey, who would end up being one of my go-to friends for gaming to this day, nearly two decades later. It was the first game I played over a [dial-up] internet connection. It was also one of the first games I really started theorycrafting for — or for those who aren't aware of the term, basically obsessing over item values and statlines.
Diablo II came at a specific time in my life when I was going through some major family troubles. It also "clicked" with my group like wildfire. Slowly but surely Joey and I recruited tons of people into a massive collective, where we'd share secrets and tips, as well as loot farm together. I saw people go from "I don't know what Diablo even is" to playing it for entire weekends.
You know that feeling when you're playing a cool game none of your friends are in on? This was the antithesis of that. I'll never forget a hilarious quote from a newlywed couple that was twice our age and started gaming with us when they said "dying in Hardcore Mode (where your character is deleted instantly after death) is like dying in real life." Diablo II was one of the biggest group experiences I've ever had outside of the original StarCraft and the first Halo. I'll never forget it.
Diablo III wasn't nearly as life-changing as the first two, but it allowed my wife to get into the series, and we've enjoyed many hours of co-op together. However you slice it, Diablo has gotten me through a lot of tough times and created lasting memories.
Diablo …read more
While it's still good news that Diablo III will be available to PlayStation 4 players, Blizzard has just confirmed that the game will not feature PS4/PC cross-platform play or support for Battle.net.
In a thread on the official Battle.net forums, Blizzard community manager "Vaeflare" answered fan questions about the implementation of Diablo III on PS4. When asked about cross-platform play and Battle.net support, Vaeflare stated:
"While we think cross-platform play would be awesome, there are currently no plans to allow connectivity between PlayStation Network and Battle.net (this is pretty standard for most games that have PC and console support). As a result, the characters on your Battle.net account and PlayStation account will also remain separate.
In terms of allowing an analog controller hookup for the PC, we don't have any plans for that kind of support right now. Similarly, since Diablo III for console was designed with a controller in mind, the PlayStation version of Diablo III will not support USB mice or keyboards."
Sounds pretty definitive, if a bit disappointing.
Earlier, Blizzard confirmed that the PS4 version of Diablo III will allow offline play.
To celebrate Diablo III's two-year anniversary, Blizzard Entertainment this week unveiled a digital game guide which offers a re-telling of the entire Diablo franchise, from the events of the first game up to the defeat of the Prime Evil in the heights of Heaven. Sadly, Reaper of Souls was not included in the book (yet), nor were any of the events bridging the two titles.
You can have a look at the storybook here. It's actually pretty cool, but doesn't reveal much information lore buffs didn't already know. Still, it's worth a read if you've got a few minutes to spare.
Oh, and those of you who play Diablo III might want to log on sometime this week. Currently, there's an in-game event which offers a community buff that doubles the drop rate of Legendaries and Rift Shards. Could be a grand opportunity to pick up some loot.
Via Polygon
Posted on: 05/16/2014 |
? Comments
Tags: Diablo III, Story of Diablo, Reaper of Souls, Blizzard Entertainment, Windows PC, Xbox 360, PlayStation 3, PlayStation 4, Video Game News
Nicholas Greene  

A gamer at heart, Nick started writing when he was a child. He holds a BA in English, works as a freelancer, and loves every minute of it. One day, he hopes to net himself a career in game design – but that's something for the future.
The views of GameDynamo's writers are not necessarily the views of the website as a whole. However, we support freedom of speech and enjoy diverse opinions about video games. Hopefully you do too!
MORE FROM GAMEDYNAMO
Blizzard Entertainment has revealed that legendary rock band Metallica will be performing at the closing concert of BlizzCon 2014, the fan convention at the Anaheim Centre in Anaheim from November 7 to 8.

Blizzard CEO Mike Morhaime, in a statement on Battle.net, said, "We're thrilled to announce that Metallica will be performing the closing concert at BlizzCon 2014, playing before a sold-out convention crowd on the night of November 8."

BlizzCon gives attendees access to developer panels, exclusive interviews, and eSports tournaments featuring key titles like Warcraft, Starcraft, Diablo III and Heroes of the Storm. While physical tickets are currently sold out, virtual tickets can be purchased on their website, which lets you view the action online, live and in HD.