by Malik Forté on April 16, 2014
Blizzard is continuing the acceleration of their console initiative by bringing Diablo III and its new expansion, Reaper Of Souls, to the PS4 later this year. We had the opportunity to sit down with Julia Humphreys and Matthew Berger of Blizzard to get the inside scoop on the Ultimate Evil Edition and the different features that were implemented to tailor the Diablo III experience to PS4 players.
Much like the PS3 version of Diablo III, player movement is controlled using the analog sticks, and the point and click elements of the game have been omitted. Players can evade via dive roll by using the right analog stick, and overall directional movement is controlled with the left analog. Spells can be conjured using the face and trigger buttons and are directed where the player is facing. The controls on the PS4 version were quick, and felt even more responsive than that of the PS3 version, a testament to the benefit of the game being ported to a next-gen platform.
One thing that Humphreys and Berger emphasized was the addition of local multiplayer capability: The ability for gamers to sit in the same room and play a game on the same television is slowly but surely being omitted from many titles nowadays, but the Ultimate Evil Edition gives players the vintage option of sharing a screen with pals as well as allowing for everyone to connect over the PlayStation Network. Players can also seamlessly drop in and out of the game arcade style, without any stoppage in action.
The Ultimate Evil Edition also includes all of the classes from the Diablo III: Reaper Of Souls expansion, Acts I-V of the game in their entirety, an item-gifting system that allows players to share scavenged items, a new apprentice mode that gives players a side-kick to aid them on their journeys, and a new system called Nemesis Kills, which enables players to avenge the death of friends remotely to earn special bonuses.
My 30 minutes of hands-on time with the game at PAX were very interesting, and from the looks of things, the PS4 version of Diablo III: Reaper Of Souls will have more content packed into it than the PC version that's currently out. Mix that with the fact …read more
Article By: Megan Ellis
Mon, 14 Apr 2014 3:50 PM
The Diablo III expansion may just be the saving grace of the franchise, with a release that shows fans that their voices were heard.
This is because Reaper of Souls has not simply added extra content to the game, but also redeems Diablo III in several ways: loot, replayability and added features.
Loot 2.0 patch
Not all of the expansion's features came with the actual game disc – some of them came in the form of a "Loot 2.0″ patch which acted as a precursor for Reaper of Souls.
Diablo III involved a lot of grinding – replaying acts and missions over and over again, rarely receiving high-value loot and having to contend with the fact that much of this loot would not be relevant to or usable by your character.
Enter Loot 2.0 and 'smart drops' – players receive less looted items, but which are of a better quality (magic, rare, legendary and set items). With smart drops, items you pick up will more likely be tailored towards your class – for example, intelligence items are more likely to drop for wizards.
This is a welcome change as there were few things more frustrating than getting an ultra-rare legendary item only to have it be unusable by your particular class.
No longer will common/white items clog up your inventory – rather you'll find yourself with more magic, rare, legendary and set items to choose from.
But obviously Blizzard is not going to be giving you all the milk for free – you'll have to buy the proverbial cow.
Adventure mode
Adventure mode is a huge plus – it's basically what makes the expansion.
Players won't be playing nigh-on identical dungeons over and over again – instead they will find a lot more variety through adventure mode.
The mode has either missions, in the form of bounties, or dungeons, in the form of Nephalem Rifts.
The variety gives players a sense that the game is not such a grind – and while you'll still be primarily aiming to improve your gear, you'll have a better time doing it.
Encountering random events in adventure mode and story mode alike also makes the game a little more unpredictable and enjoyable.
But while loot 2.0 and adventure mode are marked features of the expansion, there are also a few more additions which make the game.
Crusader class
As with most expansions, this one comes with a new …read more
OK so Diablo III came out a shade under two years ago. The game got a 9.5 here on IGN and I imagine most of the reviews from the other major sites leaned towards the positive. Like most other games and services that have online components, Diablo III did have a disastrous launch that left gamers completely unable to log in, but as I recall it was only a week or so before the issues were ironed out and gamers were finally able to bulldoze their way through the Armies of Hell and take their shot at the titular villain Diablo. I was one of those gamers and in between demon-slaying sessions I would occasionally surf the web, and discover that it wasn't just the professional reviewers giving Diablo III high praise. A sizable chunk of the online community was raving about how awesome Diablo III was.
Yeah. Everyone wanted to be these guys.
Now, this didn't happen to me personally, but I imagine anyone reading this blog probably remembers that it wasn't too long before all that praise for Diablo III turned into ravenous hatred. I think a lot of that can be laid at the feet of the typical mentality of Blizzard Entertainment's playerbase (more on that below), but the game did indeed have some issues in its implementation, some of which have addressed in a patch that came out alongside the new expansion: Diablo III: Reaper of Souls.
How could a game go from receiving a ton of critical praise initially to being massively and vocally despised by a significant portion of the Internet community? The answer is simple: Blizzard Entertainment created a game that could be played "incorrectly", for lack of a better term. I'm a big fan of Diablo III and its new expansion, and here I shall attempt to explain why I'm excited for the Reaper of Souls expansion and how I stumbled upon the secret to "correctly" enjoying Diablo III.
It's all about killing this guy, really.
Here's Diablo III's original gameplay formula in a nutshell: players choose from one of five playable classes and march across the world of Sanctuary, killing demons and snatching up their loot and gold. Chances are the average player is less interested in the story and more interested in the killing and looting, …read more
Easter eggs can be thought of as a game developer's overt nod to their fans and customers – another way of thanking the community that surrounds their studio for their dedication. I'd imagine that's not their only purpose, either. At a certain point in the development process, every dev must start to get a little tired of all the work set out in front of them; a little weary of what begins to seem less like a dream job and more like daily drudgery.
As much as they are miniature love letters to fans, I'll wager Easter Eggs are a means of injecting a little bit of extra entertainment into the development process; a method for game developers to leave their own unique mark on their work. Of course, sometimes they might just be intended to screw with us, too. Long hours and lack of sleep can do strange things to someone's mind, and I'm sure sleep deprivation played a role in the creation of some of these Easter eggs, which can surely be counted among the most absurd ever conceptualized.
Giant Toilet (Crackdown 2)
Crackdown 2 is a third-person shooter/sandbox game in which you play as a genetically enhanced superhuman police officer tasked with pulling Pacific City out of the dark depths of anarchy. You must defeat both criminal and civilian organizations in order to bring the city back under Agency control, no matter how many city blocks you need to detonate and lives you need to destroy to do it. Yeah…I never said you were on the side of the good guys, did I?
Anyway, once you've reached the final mission, climb to the highest point in the agency tower and jump down the nearby smokestack. After falling for a while, you'll end up in the bowl of a giant toilet, the origins of which are a complete mystery. Apparently it even flushes.
Secret Levels (Diablo)
Diablo II's Secret Cow Level was one of the most awesome –and probably worst-kept – secret Easter Eggs in gaming's history. By …read more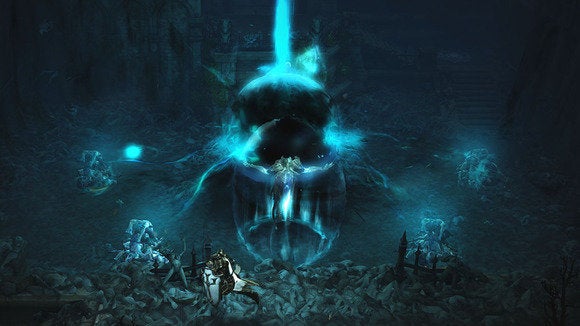 Diablo III: Reaper of Souls

Diablo III: Reaper of Souls isn't quite perfect, but it's amazing Blizzard could salvage this much from the wreckage of the original game.
I don't know how Blizzard did it. Diablo III was the pariah. It was broken forever. It was the poster child for everything you shouldn't do when updating a beloved game for the modern era. (Well, before SimCity came out.)
The new Reaper of Souls expansion doesn't make Diablo III the perfect game—far from it—but between it and the revamped Loot 2.0 system, Blizzard have salvaged a pretty entertaining core experience from the flaming Diablo III wreckage. And they've done it by going back to what made Diablo II such a hit in the first place: loot.
This is my loot

Diablo is a franchise defined by loot. It's certainly not defined by its incredibly-engaging control scheme, which consists of frantically clicking on just about everything on-screen like some sort of virtual piñata. It's funny how a peripheral system can become the centerpiece of a game, but without loot Diablo is a terrible game—something we learned with vanilla Diablo III, where the kind of legendary loot drops you'd brag about to friends were few and far between.
The fact that Blizzard implemented its updated Loot 2.0 system into vanilla Diablo III a few weeks ago is an amazing gesture of goodwill, since it removes one of the $40 expansion's greatest selling points. But suffice it to say that loot is fixed, or about as fixed as it ever could be.
Item drops are more often than not tuned to your class now and will typically fall within a narrow band of skills your character might find useful, whether you're playing as an old favorite or the new Crusader class—a heavy tank-type character who can summon a horse at will or call down the power of the heavens to smite enemies. On one hand that removes some aspect of character customization, since there are only a few builds you'll ever find equipment for. On the other hand, those "other builds" were by-and-large useless; a barbarian with high intelligence isn't a viable class as far as Diablo III's rules are concerned.
Legendary loot items are rare, but not so rare you give up and stop playing, which is a good thing …read more
Check out this footage of Diablo 3 for PS4 running in 1080p/60fps
How Will the 30 New Cards in The Curse of Naxxramas affect Hearthstone?
Castle Crashers dev working on an Xbox One game — Check out the bizarre concept art here
Blizzard discusses the challenges of bringing Hearthstone to Android
PC MMO WildStar from former Blizzard devs goes gold, launches in full June 3
Environmental Horror in The Evil Within
Hearthstone single-player adventure Curse of Naxxramas announced, and you can play without spending a penny
Harmonix has "grand plans" to revive Rock Band potentially for Xbox One, PS4
Civilization, XCOM studio Firaxis to announce new game at PAX East
Mass Effect's Commander Shepard turns 140 on Friday — Bake some cupcakes, BioWare says
Is EA's MOBA Dawngate a worthy competitor to League of Legends? You can play it today and decide for yourself
Going to PAX East? BioWare to discuss Dragon Age, Mass Effect at the event
Going to PAX East? Here's what Microsoft has in store for you
GameSpot at PAX East 2014
For the first time in PAX East history, Nintendo won't attend
Diablo III for PS4, Warlords of Draenor, …read more